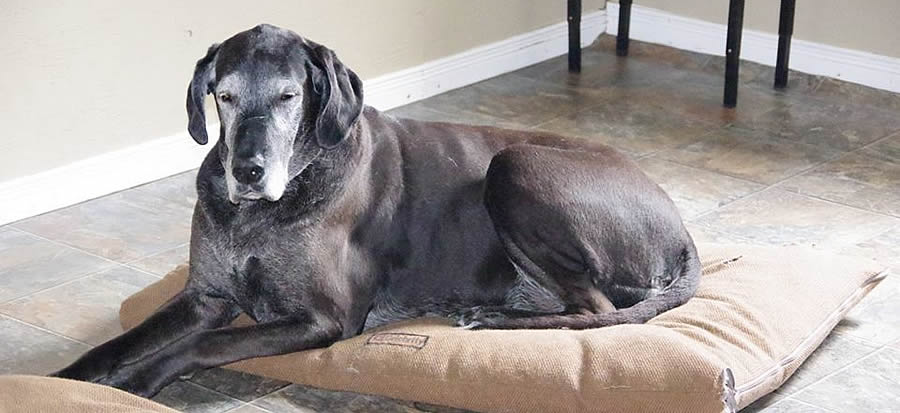 Check List for a successful stay
Mandatory
Item
Yes
No
Guest is spayed/neutered
Guest has the following vaccinations all up to date:

Rabies
Bordatella
Regular Annual Vaccinations (e.g. Leptospirosis and Para influenza).

Copies of vaccinations must be supplied (can be made on site)

Vet recommended flea prevention program (e.g. Frontline Spray, Advantage, Frontline Plus and Revolution) – May until November. Proof must be supplied
If you answered "no" to any of the above, then please call us to discuss (613 258 6875).
Normally new clients cannot stay at our facility until the interview is successfully completed. This ensures that your dog will enjoy the stay and no other guest will get hurt.
If you live far away, then special arrangements can be made for you – please call to discuss (613 258 6875).
Food
Your dog must be accompanied by a sufficient quantity of food to last the stay (Note: if you are travelling by air, include extra food – we have had owners delayed by 3-days thanks to the airlines).
Food should be provided in an airtight container (no bags, except for below) labelled with your dog's name.
Best way is to portion food into plastic bags for each meal (morning and night). If this cannot be done then provide your measuring cup and write the feeding instructions on the container.
Multiple dogs who eat the same food can use the same container.
If your dog gets one meal per day, please say so on the container
Do not put multiple meals in a single bag – one bag, one meal.
List any food allergies on the food container.
Exceptional way to package food is shown here.
Sample of a perfectly packaged meal set
The picture below shows a perfectly packaged meal set for a guest.  Each meal is packaged separately and labelled.  All the meals are in an air-tight container labeled with the dog's name.
There is also a laminated card containing:
detailed feeding instructions
emergency contact information
behavioral information about the dog
the vet's contact information.
This picture has been edited to anonymize the information.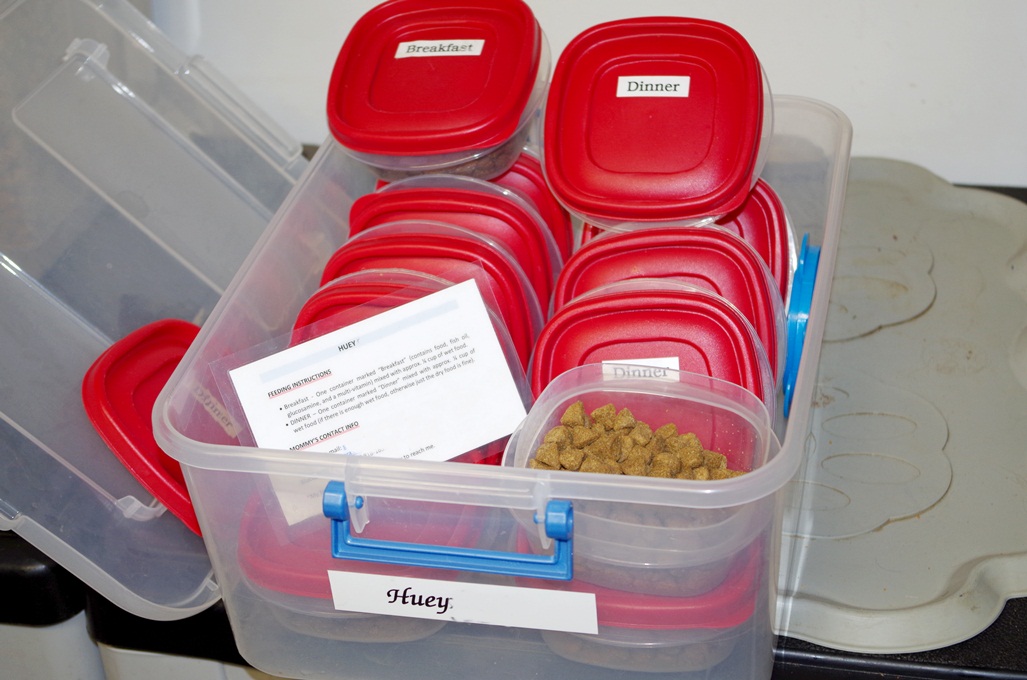 Food Bowls
Do not bring your dog's food bowl.
We have stainless steel dishes that the guests use at mealtimes.
Treats
If your dog gets food treats, either with medication or for some other reason, we are happy to give them to your dog.
Package them as for "food" above.
Medication
If your dog is taking pills with food, then put it directly into the food bags so there can be no mistake.
Otherwise:
Pack medication in a clear plastic bag with detailed instructions for administration.
Let us know if it needs special storage; otherwise, place it in the food container.
Toys
Don't bring them as the pack will destroy them.
Bedding
Do not bring your dog's bedding; the pack may destroy it (it has happened before).
Crates: can be supplied by the owner and we will use them as you instruct, otherwise we do not crate/confine dogs.
Vaccination Certificates
Please email or bring your dog's vaccination certificates if we do not already have them on file or if your dog had vaccinations recently
We will scan your hard copy and return it to you.
Flea Medication
Our local veterinarian clinic recommends that any dog going into an unfamiliar environment should be on a flea prevention regime.
Normal flea season, in this area, is from May/June until November but other factors may extend this season. For example, apartment dwellers have a warmer environment and their dogs are at higher risk.
Please bring proof of the vet recommended medication that your dog is using.
Nails
Your dog's nails should not be long as they can cause injury to other guests and our staff.
We provide a nail clipping service ($15.00 per dog), if required.
Questions?
If you have any questions, please contact us .
613.258.6875

Grooming Reservation Form
My dogs are my babies so searching for kennels was stressful. So happy to have found AREA K9 and happy they have so much fun while we are away. The stress is gone! When we get home from vacation they are tired too- great bonus!!!!
Liz SimCain