Use
Site Map Page
if the menus do not drop down for you
Event Updates
20 March 2017: Accredited to the Better Business Bureau with an A+ rating.
14 December 2016: Julie is back!!!
14 July 2015: Caity joins the AreaK9 team as a new staff member.
22 June 2015: Finally moving into the 21st century, AreaK9 has closed the fax line.
8-12 June 2015: The fifth anniversary celebration of AreaK9's operation in which we gave away 25 free days to the lucky participants.
5 June 2015: K9 Club extended to 7 day program (previously weekdays only).
30 Dec 2014: First time two dogs were placed on the Honour Roll from the same visit. Also first time a mother and son receive the award (see http://tinyurl.com/klw2hse).
2 Sept 2014: Four motion sensor solar lights installed in the front and back of the property.
31 August 2014: Three visitor parking spots labelled.
29 July 2014: Concrete pathway leading to and past "the village" was completed. A lot of tree pruning was completed.
22 May 2014: The driveway was refreshed with more gravel for the benefit of our clients.
18 March 2014: Kaila started working at AreaK9.
16 March 2014: Kate's last day at AreaK9. She has moved onto to other things and we wish her well.
20 Jan 2014: Report card changed to include an F-grade (Fail).
8 Jan 2014: Passed inspection by the Municipal ByLaw Officer with flying colours. No observations noted!
8 March 2013: Staffing changes occur at AreaK9 and Full Grooming is no longer offered as a service.
1 March 2013: Lobby camera moved into the house for better "dog-coverage"
13 Jan 2013: Price change posted on website prior to implementation on 1 June 2013
3 Jan 2013: Created the new photo album "fives (or more)" for when we have that number of dogs of the same breed staying at the same time.
22 Dec 2012: Said goodbye to Shasta, the new record holder for the longest stay (68 days). She had really become part of the family.
7 Oct 2012: The dog beds were replaced with new dog beds. The old, damaged beds were removed from service.
5 Oct 2012: Two continuous flow drinking stations installed to keep the water fresher for the dogs.
20 Sept 2012: AreaK9 owners attended a four-day seminar given by Dr. Ian Dunbar on "Sex and Aggression in dogs".

30 Aug 2012: December 26 - 30 become full!
25 Aug 2012:
New self closing security gates installed throughout AreaK9 (although many of them remain open most of the time).
5 May 2012:
New Canadian flag erected in back-run near the orchard. Decorative dog flags hung outside the main entrance.
22 April 2012:
A new Referral Programme instituted for existing clients. AreaK9 K9-club rate structure was also changed.
31 March 2012:
Survey winner announced, see the AreaK9 YouTube channel for the drawing. Shannon Harkema won two free nights at AreaK9 for her wonderful Swiss Mountain Dog Dozer.
3 Feb 2012:
AreaK9 survey is up.
29 Jan 2012:
The AreaK9 library is now open. Books and DVD's on training and behaviourism are available to our clients .
21 Jan 2012:
AreaK9 has renewed its license for the coming year
.

28 Dec 2011:
On-line reservation form changed to hide unnecessary fields to make life easier for multi-dog families and single dog families.
27 Dec 2011:
YouTube Channel update for look and feel, and new videos.
15 Dec 2011:
New services come online at AreaK9: Grooming and a Pick-up and Drop-off service for clients with no transportation.
8 Dec 2011:
Shelves erected in the AreaK9 lobby to house the new AreaK9 library.
1 Dec 2011:
A new pricing structure came into effect.
21 Nov 2011:
Report Card revised and new version put into practice. Categories partly inspired by
Dr Ian Dunbar
.
10 Nov 2011:
Old wooden gate near entrance replaced with modern see-through gate that makes the dogs much happier.
10 Oct 2011:
Reservation form changed to accomodate up to three dogs on the same form.
5 Oct 2011:
Two free books, written by
Dr. Ian Dunbar
, added to the AreaK9 site to help people 1) decide on a puppy, and 2) how to train their puppy after they have acquired one.
17 Sept 2011:
Outdoor shelter
built for the dogs to comply with new licensing requirements.
13 Aug 2011:
Work on patio begins so the additional area can be opened up for the dogs.
Pricing structure is changed to raise prices for short term stays.
8 Aug 2011:
Electrical work to commence to correct wiring and placement errors from previous owners' tenure. Finished same day!
31 July 2011:
Last Drop-off and Pick-up times changed from 20:00 to 19:00 in an effort to prevent people coming after closing and wondering why everything was locked up.
20 June 2011:
Final building inspection passed and the construcion period (lobby and garage) finally came to an end
.

16 June 2011:
Concrete dried, and the garage is usable.
13 June 2011:
Work begins on the construction of the concrete pathways in the AreaK9 large (three-quarter acre) dog run
.

4 June 2011:
Lobby is fully operational and now is the place where clients drop-off and pick-up their dogs.
3 June 2011:
Bench placed outside the AreaK9 lobby for those who need to wait, to wait.
2 June 2011:
Garage construction finished. Doors installed.
28 May 2011:
The lobby is being painted.
25 May 2011:
Laminate flooring installed in the lobby.
18 May 2001:
Work on the lobby continues and the concrete slab is poured for the garage with a 3" slope
.

17 May 2011:
Gas heating installed in the lobby
.

11 May 2011:
Electricity is on in the new addition and the holes around the foundations are filled.
7 May 2011:
A new sump pump line was installed, which turned the back yard into a swamp. More hay was put down to keep doggie paws relatively clean.
22 April 2011:
Dry wall in the lobby has been installed.
17 April 2011:
Next phase of building inspection passed. Inspector commented that the job was "better than I expected".
23 March 2011:
Modifications made outside so that arriving guests now come to where the new AreaK9 lobby will be when construction is finished.
19 March 2011:
Spring has come, the snow has melted and the construction area is a swamp. Steps have been taken to keep your shoes clean - see FB's AreaK9's Construction photographs
.

16 Feb 2011:
A new section added to the website that shows some interesting data. It's accessed
here
.
13 Feb 2011:
Reservation form simplified for the benefit of returning guests. Many sections are now pre-filled and some questions eliminated entirely.
2 Feb 2011:
Website changed to include Honor Roll, Health Tips, Behavior Tips, and Orion's Diary.
28 Jan 2011:
First memory
presented to Kiki's owner.
27 Jan 2011:
Purchased a dye-sublimation printer so that some guests can take a memory (photograph) home with them.
18 Jan 2011:
As a result of previous water testing that showed a high degree of dissolved solids in the AreaK9's water, a water purification system was installed to improve water quality for the staff and guests. This will decrease the hardness, which will improve the quality of dog washing, and improve the quality of drinking water for all.
Dogs are now drinking water from a reverse osmosis purification system.
13 Jan 2011:
Shingling on new roofs finished. Now waiting for electrical wiring to be installed.
9 Jan 2011:
Floor installed in drop-off, pick-up area (ie., the waiting room). Planning for contents underway.
8 Jan 2011:
Waiting room base leveled, vapour barrier installed and door to house raised to be level with the new floor.
7 Jan 2011:
Phone line (and internet) goes down for about an hour - resulted from Bell cutting the line while doing work elsewhere. Bell service contract initiated to help alleviate this in the future.
1 Jan 2011:
The January thaw turned the driveway into a swamp for two days - sorry for the mess. The driveway will be fixed as soon as construction is completed.
30 Dec 2010:
Report card format changed to remove some confusion with the first version.
28 Dec 2010:
Construction recommences after the Christmas Holiday
.

18 Dec 2010:
Walls start to get filled in so the the new buildings look solid.
17 Dec 2010:
AreaK9
changes its policy about accepting client beds due to the destruction of client beds by other guests. The policy becomes one of "no-client-beds" and
bedding will be provided by

AreaK9
.
16 Dec 2010:
Framing begins
.

15 Dec 2010:
The frozen earth necessitated heavy equipment to finish the filling
.

11 Dec 2010:
Filling in around the foundations continues.
10 Dec 2010:
Water and ice removed from around the foundations and earth begins to be put back in. This proved to be difficult as the first one to two feet of earth was frozen solid.
1 Dec 2010:
The building inspector passed the foundations and the repairs to the recently discovered problems, so construction can continue
.

27 Nov 2101:
Third surveillance camera added. Now we can see what is going on in the room where the dogs sleep, or use to play when they don't go outside. The fourth camera is slated for the waiting room when it is built.
17 Nov 2010:
Excavation of the outside of the house revealed serious construction problems that we were unaware of during the purchase of the property. An engineers' report was required by the building inspector before moving on with construction.
13 Nov 2010:
Ground is broken for the expansion of AreaK9's buildings. This expansion will last a few weeks and there will be some inconveniences during that time. Sorry for the mess.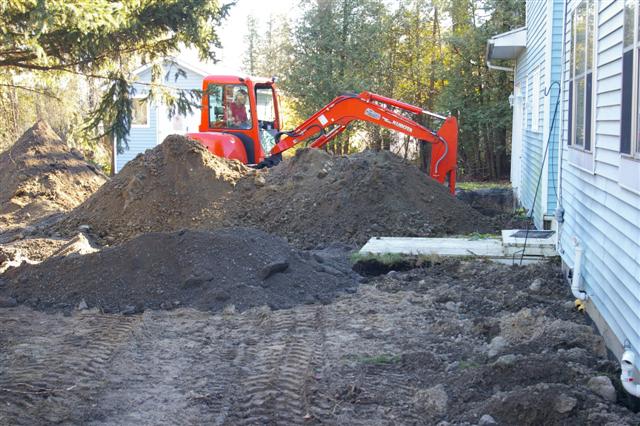 11 Nov 2010:
The conversion of "Southpaws" to "AreaK9" is complete. The hold-up was the completion of new business cards.
6 Nov 2010:
AreaK9 establishes a presence on
Twitter
22 Oct 2010:
Southpaws sign at home base removed and replaced with the new name. Conversion from "SouthPaws" to "AreaK9" almost complete.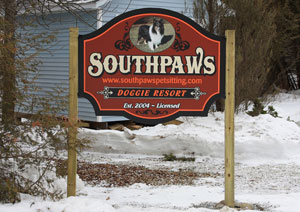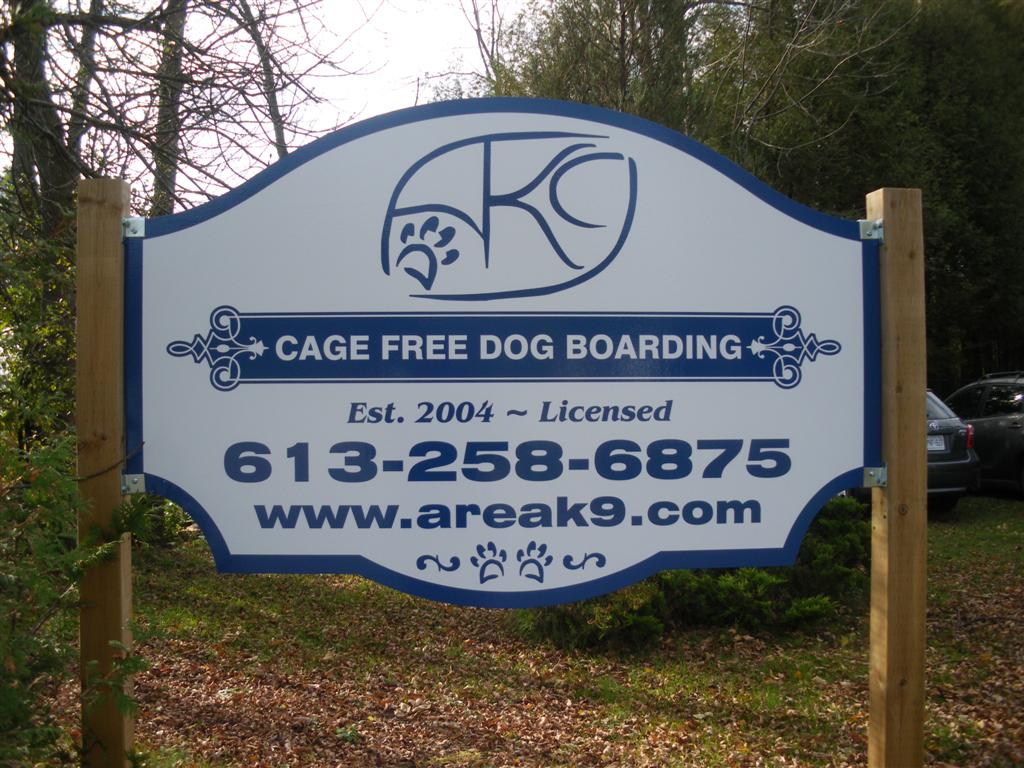 20 Oct 2010:
Building permit issued for the addition of a double car garage and heated waiting room for AreaK9 clients.
19 Oct 2010:
Approval given to the design of new AreaK9 signs for the property, and decals for the cars.
16 Oct 2010:
Southpaws website redirected to AreaK9 website. Use of Southpaws name discontinued in all practices.
9 Oct 2010:
AreaK9
channel
on YouTube is created.
4 Oct 2010:
AreaK9 website goes live.
29 Sept 2010:
Conversion of "Southpaws" to "AreaK9" begins, in earnest.
28 Sept 2010:
The food storage area has been moved out of the dog washing area into new storage cabinets in the dog playroom. A new food preparation area has been constructed in the playroom that is now in the view of the dogs when they wait for their morning and evening meals.
21 Sept 2010:
Much undergrowth near back fence cut out to impove safety (low branchs posed an eye hazard ) for our guests and open up more ground for play.
12 Sept 2010:
Surveillance cameras installed to monitor the dogs when staff are in a different part of the house. Particularly useful at night!
4 Sept 2010:
Check out the new clock in the entrance to the facility. There is now a gate that gives access to the fenced dog area from outside the house (previously one had to go through the house to gain access) - this will make interviews easier to conduct.
23 Aug 2010:
The A/C unit that was partially destroyed by dogs urinating on the cooling fins during the previous owner's tenure has been replaced with a high efficiency, modern unit. The house heating system has been converted from oil to propane gas and the furnace upgraded to a high efficiency unit, replacing the 17-year-old oil-fired unit.
16 Aug to 21 Aug 2010:
Staff go on vacation. Judy Amo comes back under contract to manage the business.
15 Aug 2010:
Adoption link added to the site. A no-fee for service feature of the business.
7 Aug 2010:
Link to FaceBook established.
26 July 2010:
Propane tanks installed.
19 July 2010:
Found out that the oil tank did not pass the safety inspection. Long story short, the whole heating system will be replaced with a propane system. Also the A/C unit has been damaged (last year) by dog's urine. It will be replaced soon.
16 Jun 2010:
The ground floor was re-arranged to allow smaller dogs to be kept seperate from the larger dogs if the need should arise.
12 Jun 2010:
Driveway fixed. No more potholes, no more muddy feet and paws before reaching the entrance. The driveway was excavated, graded and filled with 3" of granulated stones. There are plans to asphalt the driveway after the stones have settled. (click on each image for a larger picture).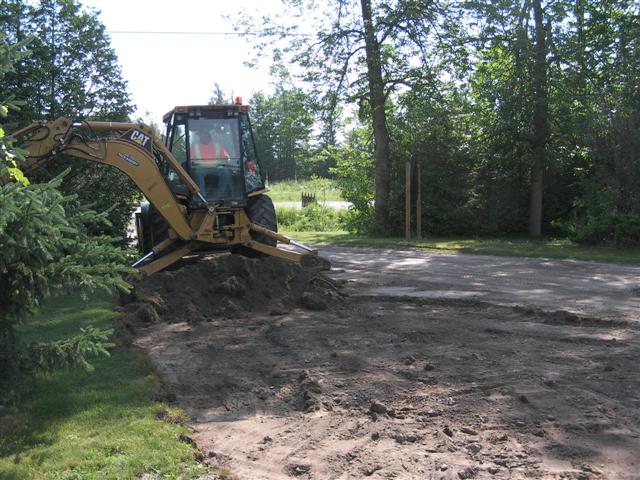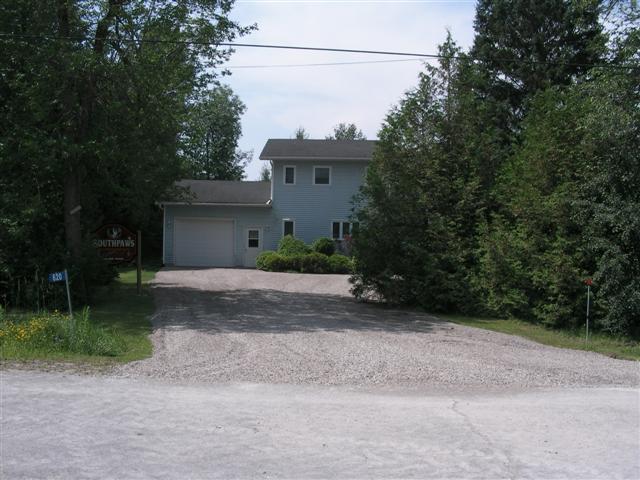 6 Jun 2010:
Ownership of Southpaws transfers from Judy Amo and Ian Leverette to Looda and Gary Kramer. It took two days to move the Kramer household into the new property while maintaining the business. Unpacking and re-building continues to this day!