Welcome to AreaK9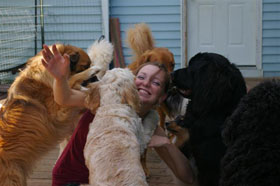 AreaK9 is a licensed dog boarding facility unlike any other around the Ottawa area. The entire acre is fenced in and includes huge pine trees, an apple orchard, some small trails and absolutely no cages.
Your animal is treated like part of our family and has free run of the property without restraints or leashes. And, when the heat or cold gets too much for outside play, the dogs can relax in the climate controlled interior of the house.
"More than anything else dogs enjoy having fun ... Running is fun, jumping onto beds is fun, jumping off beds is fun, and playing with other dogs is the best fun of all." Excerpted from A Modern Dog's Life. Paul McGreevy PhD MRCVS. ISBN 978-1-61519-018-8; 2010.
---
Take a video tour of AreaK9:

Click Here