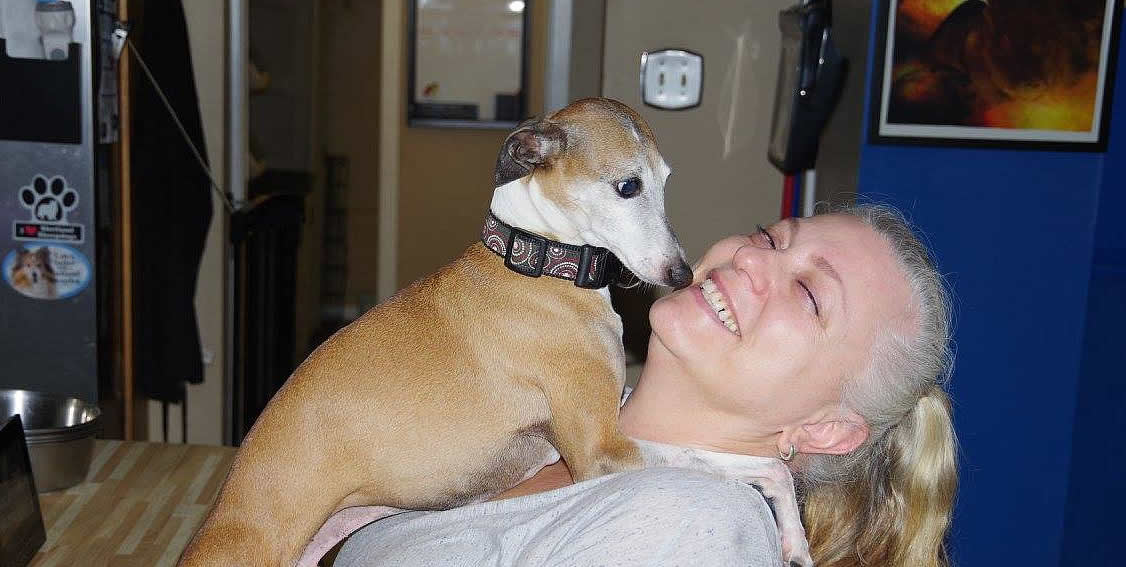 The interview is a very important part of our process to ensure a safe and happy environment for all dogs staying with us. It has two main components.
We assess the sociability of a dog. Whatever environment the dog comes from, they should have some basic social skills to be a pack member. We realize that most dogs do not spend much time around many different dogs and people. As long as the dog is not aggressive or fearful, the pack will, sooner or later, help them to develop much better communication skills.
Another very important aspect of the interview is the chance for the owner to tour our home, experience the pack environment, meet our staff, and ask any questions they may have.
What to expect
When you first arrive we will take you and your dog(s) into the backyard while the rest of the dogs remain inside. Your dog will have the opportunity to smell around and get a quick idea of their surroundings while we talk about your dog, and our daily routine.
Then we will bring out one or two dogs at a time to meet your dog. We will carefully be watching their meeting. This will allow us to find out how fluent in "dog" your dog is.
Once we are satisfied that stage is successful, you and your dog(s) will go inside with one of us, while the rest of the dogs will stay outside. We will show you where your dog will stay and explain our processes and activities while your dog explores the interior. This is where you get to ask anything you can think of.
The process usually takes anywhere from 30 – 60 minutes.
For the interview to go as smoothly as possible we ask you to follow few simple rules:
Be on time. If you will be early or late, please call ahead so we can reorganize our activities to accommodate the change.
Do not bring too many people for the interview. Everybody is welcome to visit us. Just call and set the time for a visit. But at interview time we would like to limit the amount of excitement for our dogs and yours. The interview contains enough new and exciting things for all the dogs.
If possible, do not bring small children. You and we will be distracted, because their safety will be our prime concern.
Do not have any treats or other food on your person. Most of the dogs are very strongly motivated by food. They will be trying to get it from you, and you may get mobbed.
While the dogs are being released, do not touch, talk or look at the dogs. We know you love them and they will try to get your attention. To do it safely, please ask us when you can do it.
Please carefully follow all instructions from AreaK9 staff during the socialization interview. This will help your dog settle quickly and provide the best outcome.
BOOK YOUR INTERVIEW TODAY
Call 613.258.6875

or use the Quick Contact form located in the bottom of the page
Best experience we ever had. We got to enjoy our vacation because we knew Stanley was in great hands. Can't wait to use Area k9 again
Stephanie Deslauriers